Islam
ISLAM…is a worldwide religion. There are several others but not as extensive. Also, a multitude of Christian cults exist. Merriam-Webster defines religion as: belief in a god or in a group of gods. Or; an organized system of beliefs, ceremonies, and rules used to worship a god or a group of gods. As well as; the service and worship of God or the supernatural, a commitment or devotion to religious faith or observance. And may be a personal set or institutionalized system of religious attitudes, beliefs and practices.
Islam is the religious faith of Muslims, based on the words and religious system founded by the prophet Muhammadand taught by the Koran, the basic principle of which is absolute submission to a unique and personal god, Allah. It is also the whole body of Muslim believers, their civilization, and the countries in which theirs is the dominant religion.
Christianity, on the other hand, is not so much a religion as it is a relationship. When you break down every other religion, you see manmade beliefs and rules, to create peace with yourself and your fellow man, while appeasing the gods. But it does not deal in any way with man's root problem, SIN!
Recently, a father shared a story about his 13-year-old daughter at school. The teacher delivered a lesson in class about there being one god but many ways to heaven. His Christian daughter, doing a little evangelizing, went up and asked the teacher after class, "What about Jesus?" The teacher had no real response.
Right after 9/11, a friend of mine shared that an Imam spoke at his Methodist church the Sunday after and declared that we all worship one god. My friend bought into it and so many others do too. It was then and is today a deadly error!
The truth is: there are many (small "g") gods, but only one way to heaven. See, religion reaches up to the gods through good works and traditions/rituals, but the Creator God reached down to us through His Son. And while Jesus was on earth, he taught one critical, exclusive truth. He said;
"I am the way and the truth and the life. No one comes to the Father except through me."
(Jn. 14:6) This all started on earth inside the Garden of Eden. Once the holy Creator God expelled Adam and Eve from the garden as an act of grace, man has been trying to perform religious acts to get back into the garden ever since, struggling to be worthy. Sinful man simply cannot enter into the presence of a holy and righteous God on his own merit. Man is doomed. I'd even say, scorched forever, he's toast…unless!
The only way sin can enter God's presence is through the righteous and saving work of the cross upon which Jesus, the only Son of God gave up His life for us. There, God's judgment on sin was satisfied and abated (removed) from those who believe. James wrote that our faith in the words of Jesus in Jn. 14:6 must show itself in good works. These are not to secure salvation, but to demonstrate your saving faith. "Religion that God our Father accepts as pure and faultless is this: to look after orphans and widows in their distress and to keep oneself from being polluted by the world." (James 1:27) Faith must result in works!
You want back in God's garden called heaven; then here is the only way. Through the 'Veil'-Jesus is that veil. No cutting through the roof, digging a tunnel, climbing through a window, trying the back door. Revelation 3:20 changed my life forever. Jesus said: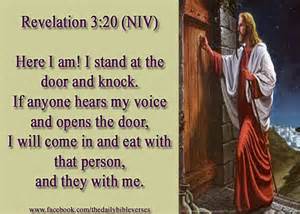 The handle is on the inside of the front door of your heart. By faith, not works, you believe and open the door. He's already done the work–giving his life for you. You will be veiled in the righteous robe of Christ. The Father's judgment on your sin has been covered. Rejoice, you are back in the Garden, dressed appropriately!
Paul said to the Colossian Church and, by extension, to you and me. "See to it that no one takes you captive through hollow and deceptive philosophy, which depends on human tradition and the elemental spiritual forces of this world rather than on Christ." (v.2.8)
There are 5+/- billion people in the world that have 'bought into the lie'. Pray that their spiritual eyes will be opened to the truth, the only truth: Jesus the Christ, Jeshua the Messiah, Isa al Masih.
More Muslims are coming to faith in Jesus Christ today than ever before. Continue to pray for those who view Christian believers as "infidels" that they, too, might come to a saving faith in Jehovah God and His son, Jesus, the Christ.
Copyright 2016
Bill C. Dotson
Scripture taken from the NIV
---
Latest Posts